Fundraising : an agreement between two worlds.
Fundraising : un accord entre deux mondes
This research focuses on the engagement of organizations for the benefit of non-profit activities, today, in France. This work was conducted within a reference to the research of Boltanski and Thévenot on justification and commitment (Boltanski and Thévenot, 1991; Thévenot, 2005) called "Economies of Worth". This sociological approach of "action" tries to explain how people justify their actions and what they say about why they engage. From these frames of reference, we propose a model that reflects the empirical practices of professionals in fundraising and organisations involved in building consensus around philanthropy. This model highlights the mechanisms being used to build the consensus. It illustrates what is a "fair and legitimate" action for the general interest. It offer a mechanism to explain how these actions are judged by the stakeholders of organizations involved in sponsorship. Our research has two applications in management: 1. Identify actions for non-profit organisations to raise funds from organizations who wish to be involved in promoting the public good. 2. Understand the commitment of the private sector for promoting the public good. Highlight good practices and benefits that companies can expect from their commitment Our work brings a specific contribution to understanding the creation of value in a strategic marketing approach of corporate social responsibility, and the development of corporate social capital of public and private organizations acting for the benefit of general interest.
Cette recherche traite de l'engagement en faveur de l'intérêt général, et notamment des modalités d'engagement des organisations mécènes auprès des organisations reconnues d'intérêt général (OIG), tant publiques (collectivités, etc.) que privées (associations, etc.), aujourd'hui, en France. Les stratégies mises en œuvre par les OIG pour collecter des dons (fundraising) auprès des entreprises consistent à mettre en place des offres susceptibles de réponse aux désirs d'engagement « responsable » des organisations marchandes. Du côté des entreprises mécènes, plusieurs motivations ont été identifiées (implication des salariés, image positive, etc.) mais les avantages obtenus sont considérés comme trop diffus et « subtils » (Himmelstein, 1997) pour pouvoir justifier un engagement financier significatif de l'entreprise. Nous avons donc tenté de contourner la question du « pourquoi » les entreprises s'engagent, pour comprendre les mécanismes et processus qui amènent une entreprise et une OIG à élaborer un accord positif pour les deux parties. Ainsi, en comprenant « comment » une entreprise s'engage auprès d'une OIG, nous avons cherché à identifier les éléments les plus pertinents pour, d'une part, rendre plus efficaces les démarches de fundraising des OIG ; et, d'autre part, accompagner la justification économique de l'engagement des entreprises auprès de la société civile, et ainsi contribuer à l'intégration de cet engagement dans la stratégie globale de l'entreprise, comme le préconisent Porter et Kramer (2002). Ce travail s'inscrit dans le cadre général des théories de l'action et plus particulièrement dans le courant représenté par les travaux de Boltanski et Thévenot (1991) sur la justification et l'engagement. Plusieurs corpus disciplinaires (anthropologie, sociologie, gestion et juridique) ont par ailleurs été mobilisés pour étudier les significations du don et les pratiques du mécénat, aujourd'hui, en France. A partir de ces cadres de références, nous proposons un modèle qui rend compte des actions empiriques des acteurs lorsqu'ils élaborent ensemble un « bon » accord mécène : c'est-à-dire un accord justifié, car jugé légitime par les acteurs, par les publics auxquels il s'adresse (salariés, clients, partenaires institutionnels, etc.), ou par ceux qui se sentent concernés par lui (Société civile, lanceurs d'alertes, etc.). Ce modèle éclaire sur ce qu'est une action en faveur de l'intérêt général jugée juste et légitime. Il propose un mécanisme permettant d'expliquer comment ces actions sont jugées par les parties prenantes des organisations impliquées dans un accord mécène. Nos recherches ont deux applications concrètes : 1/ Elles mettent en évidence les leviers actionnables par les OIG pour collecter davantage de fonds auprès des organisations mécènes. 2/ Elles enrichissent la compréhension de l'engagement des entreprises en faveur de l'intérêt général et suggèrent plusieurs « bonnes pratiques » permettant de rationaliser et de maximiser les retours de l'engagement pour l'entreprise. Elles apportent enfin une contribution spécifique pour comprendre comment créer de la valeur, d'une part, dans le cadre d'une démarche marketing stratégique liée à la responsabilité sociale des entreprises, et, d'autre part, à travers le développement d'un capital social organisationnel spécifique aux OIG.
Fichier principal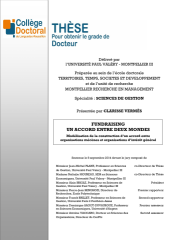 VERMES Clarisse (2014) Thèse Fundraising - Volume principal v8k.pdf (7.29 Mo)
Télécharger le fichier
VERMES Clarisse (2014) Thèse Fundraising - Volume d'annexes v11a.pdf (5.01 Mo)
Télécharger le fichier