Associations : les nouveaux guichets de l'immigration ? Du travail militant en préfecture
This article shows the ambiguous relation existing between activists' work towards illegal immigrants and state institutions. Made for influencing immigration policies and accompanying and defending immigrants, activists' work is at the same time designed and conditioned by these very same policies. Non-profit organizations have to adapt their activities to the political context that structure their action frame. As a consequence, the nature of activists' work evolve towards a more routinized, law-centered, individualized and formalized orientation. This article then focuses on how this law-centered orientation makes non-profit organization and state institutions less distant. Immigration policies are therefore enforced with, and partly by, non-profit organizations. These evolutions build an institutionalization process of the illegal immigrants' cause. The analysis is based on observations led during local administrative commissions and within non-profit offices.
Cet article montre dans quelle mesure le travail militant dans la cause des étrangers entretient une relation ambigüe à l'État, ses institutions et ses représentants. Destiné à influer sur les politiques migratoires et à accompagner et défendre les étrangers, le travail militant se trouve dans le même temps façonné et conditionné par ces politiques migratoires. Les associations adaptent leurs activités en fonction du contexte politique qui structure leur cadre d'action. De ce fait, c'est la nature du travail militant qui évolue : il se routinise, il se juridicise, s'individualise et se formalise. Cet article montre ensuite comment ce processus de juridicisation participe à une diminution de la distance entre les associations et l'État. L'application des politiques migratoires par les administrations compétentes se fait dans ce cas avec, et en partie par, les associations de la cause des étrangers. Ces tendances apparaissent ainsi constitutives d'un processus d'institutionnalisation de la cause des étrangers. Cet article s'appuie sur des observations menées dans des associations de la cause des étrangers et lors de réunion d'une commission préfectorale de réexamen d'étrangers sans-papiers.
Fichier principal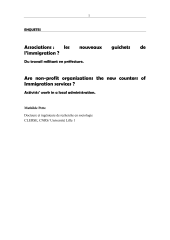 Pette Mathilde_Sociologie_HAL.pdf (800.2 Ko)
Télécharger le fichier
Origin : Files produced by the author(s)