L'Obra del Cançoner Popular de Catalunya et la mission en Roussillon (été 1930)
En consonància amb les grans recollides de folklore realitzades a partir del segle xix tant a França com a Catalunya, l'any 1930 el conegut lingüista Pierre Fouché és contactat per l'Obra del Cançoner Popular de Catalunya per recollir les cançons tradicionals rosselloneses. L'Obra, avui dia impressionant pel seu volum, ja de bon principi, el 1922, fou una empresa considerable, organitzada des de Barcelona i duta a terme per tots els territoris de llengua catalana: el Principat, el País Valencià, les Illes Balears, Andorra i el Rosselló. Pierre Fouché compleix aquella missió durant l'estiu del 1930, ajudat pel seu germà Marcel, docent com ell mateix, a més de musicòleg. Junts apleguen de familiars seus del Conflent, on van néixer, unes 200 cançons populars, transcrites amb lletra i música, només 73 de les quals consten al Cançoner popular de Catalunya. Per bé que la collita dels germans Fouché no fou gaire substancial en el conjunt del voluminós Cançoner (respecte a altres missions i recollides de Catalunya), sí que permet de fer conèixer les cançons encara vives fa un segle al Conflent i al Rosselló i salvaguardar aquesta petita part del patrimoni tradicional de la Catalunya del Nord.
In a continuation of the great folklore collections carried out in the nineteenth century in both France and Catalonia, in 1930, the Obra del Cançoner Popular de Catalunya (Barcelona) contacted the famous linguist Pere Fouché to ask him to collect traditional Roussillon songs for their archive. The Obra, whose size still impresses today, was from its beginnings in 1922 a considerable enterprise that was organized from Barcelona and carried out in all the Catalan-speaking countries: Principality of Catalonia, the Valencian Country, the Balearic Islands, Andorra, the Val d'Aran and Roussillon. Assisted by his brother Marcel, a musicologist and a teacher like him, Pere Fouché collected from relatives in the Conflent area, of which they were both natives themselves, about 200 traditional songs transcribed with music and words in the vernacular language, of which only 73 were included in the Cançoner Popular de Catalunya. Although in context of the Cançoner as a whole, the contribution of the Fouché brothers was not particularly substantial compared with other missions in Catalonia, it has nevertheless kept alive songs that were still popular in the Conflent and Roussillon a century ago and has saved from oblivion this small part of North Catalonia's traditional heritage.
Dans le prolongement des grandes collectes de folklore réalisées dès le xixe siècle aussi bien en France qu'en Catalogne, en 1930, le célèbre linguiste Pierre Fouché se voit confier le collectage de chansons traditionnelles roussillonnaises par L'Obra del Cançoner Popular de Catalunya (Barcelone). L'Obra, aujourd'hui impressionnante par son volume, fut dès son origine en 1922 une entreprise considérable, organisée depuis Barcelone et réalisée dans tous les pays de langue catalane: Principat de Catalogne, Pays valencien, îles Baléares, Andorre et Roussillon. Pierre Fouché s'acquitte de sa mission, au mois d'août 1930, secondé par son frère Marcel, enseignant comme lui et musicologue. Ensemble ils recueillent auprès de proches –surtout leurs parents– originaires du Conflent dont ils sont eux-mêmes originaires, près de 200 chansons traditionnelles, transcrites avec musique et paroles en langue vernaculaire, dont 73 seulement figurent dans le Cançoner Popular de Catalunya. Si, dans l'ensemble du volumineux Cançoner la récolte des frères Fouché ne fut pas extraordinairement substantielle comparée à d'autres missions en Catalogne, elle permet de faire connaître les chansons encore vivantes en Conflent il y a près d'un siècle, et de sauver de l'oubli cette petite partie du patrimoine traditionnel nord-catalan.
Fichier principal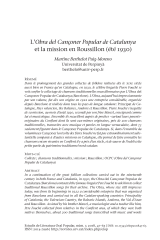 2494-7130-1-PB.pdf (153.34 Ko)
Télécharger le fichier
Origin : Publisher files allowed on an open archive