La Liberté dans le discours synarchiste mexicain
"Patria, Justicia y Libertad," was the slogan of the Mexican synarchists. Thus these counter- revolutionaries who organized themselves around a movement in Mexico in the 1930's included in their rhetoric the term of "freedom" and gave it a key place. "Synarchy" means "with order and government". The extreme structuring of the movement t, the number of norms framing the members' behaviour and the number of the precepts, are baffling. Ambivalence seems to lead to a paradox. This article both considers the meanings that synarchists give to the term "freedom" to establish whether there is an actual ideological paradox or an accepted ideological ambivalence and their margins in terms of freedom of conduct and thinking. This study is based on three types of documents: fundamental synarchist texts, the synarchists' weekly newspaper El Sinarquista, and the 1917 Mexican Constitution.
« Patria, Justicia y Libertad », tel était le slogan des synarchistes mexicains. Ainsi ces contre-révolutionnaires qui s'organisèrent en mouvement dans le Mexique des années 1930, incluaient-ils dans leur rhétorique le terme de « liberté » et lui accordaient-ils une place de choix. Or synarchie signifie « avec ordre et gouvernement ». L'extrême structuration du mouvement, le nombre de normes structurant les conduites des membres ainsi que celui des préceptes, laissent perplexe. L'ambivalence semble conduire au paradoxe. Le présent article envisage les significations que les synarchistes donnent au terme « liberté » pour établir s'il y a un paradoxe idéologique effectif ou bien une ambivalence idéologique assumée et envisage leurs marges de liberté de conduite et de pensée Cette étude s'appuie sur trois types de documents : les textes synarchistes fondamentaux, leur journal-l'hebdomadaire El Sinarquista-ainsi que la Constitution mexicaine de 1917.
Fichier principal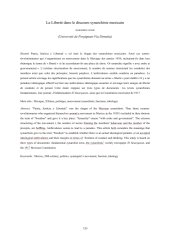 HispanismeS_10_article_9_JANER_Marjorie.pdf (221.83 Ko)
Télécharger le fichier
Origin : Explicit agreement for this submission