Au-delà du séjour linguistique : le cas des Britanniques implantés dans les Pyrénées-Orientales : aspects culturels et linguistiques
The aim of this paper is to present a nascent research project looking at British "cultural migrants" in the Pyrénées-Orientales, a département in southern France. This project seeks to bring together different methods not only to study the demographic and sociological characteristics of this group, but also to take into account (socio)lingusitic considerations. Whereas so-called "luxury migration" to France has attracted attention over the past years, few researchers have investigated British migrants' language mastery and use. This work-in-progress paper therefore sets the scene for the forthcoming study of British expatriates living in the PyrénéesOrientales, bringing to the fore the principal questions and setting out certain methodological choices.
Cet article a pour but de présenter un projet de recherche en cours d'élaboration autour des « migrants culturels » britanniques installés dans le département des Pyrénées-Orientales en France. Dans ce projet il est question de réunir différentes méthodes pour étudier ce public tant du point de vue des caractéristiques démographiques et sociologiques que (socio)linguistiques. Alors que le phénomène de migration dite « de luxe » sur le sol français est étudié depuis un certain nombre d'années, peu de recherches s'intéressent de près aux facteurs ayant à voir avec la langue et à la maîtrise de celle-ci. Ce « work in progress paper » pose le décor pour l'étude des Britanniques implantés dans les Pyrénées-Orientales, en dégageant les principales questions et en annonçant un certain nombre de choix méthodologiques.
Fichier principal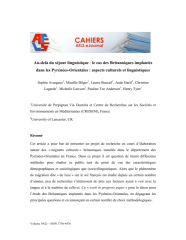 4-CahiersAFLS19(2)-Avarguez.pdf (334.66 Ko)
Télécharger le fichier
Origin : Publisher files allowed on an open archive