Retour en Inde d'une expatriée dans la nouvelle "Ciphers" de l'Indo-américaine Ginu Kamani
Born in Bombay in 1962, the writer Ginu Kamani emigrated to the United States with her family at the age of fourteen. As for the Indo-American narrator of her short-story "Ciphers" (1995), she returns to India after ten years spent building her identity as a woman in North America. Having only known her homeland in her childhood, she has not yet experienced the society from which her elders preferred to emancipate from an adult's point of view. Between bewitchment and bitterness, the expatriate who lends her voice to this story evaluates the progress made, without her, by the women of her former country and her own evolution without India. Her return offers her the unsettling opportunity to compare her alleged dissent and her power to those of an Indian mother met during a railway journey. By the processes of writing and imagination, the values attributed to gender but also to the here and elsewhere seem reversed. This paper intends to analyze the ambivalent text which introduces the story collection Junglee Girl, written in English, by underlining women's dissidentities. How do Ginu Kamani's characters dissent from the stereotyped representations of identities?
Née à Bombay en 1962, l'écrivaine Ginu Kamani a émigré aux États-Unis avecsa famille à l'âge de quatorze ans. La narratrice indo-américaine de sa nouvelle"Ciphers" (1995) revient, quant à elle, en Inde après dix années passées à construire son identité en tant que femme en Amérique du Nord. N'ayant connu sa terre natale que dans son enfance, elle n'a pas encore expérimenté un regard adulte sur la société dont ses aînées ont préféré s'émanciper. Entre envoûtement et amertume, l'expatriée qui prête sa voix à ce récit évalue le progrès effectué, sans elle, par les femmes de son ancien pays et sa propre évolution sans l'Inde. Son retour lui offre la troublante occasion de comparer sa dissidence et son pouvoir présumés à ceux d'une mère de famille indienne rencontrée lors d'un trajet ferroviaire. Par les processus de l'écriture et de l'imagination, les valeurs imputées au genre mais également à l'ici et l'ailleurs paraissent renversées. Cet article entend analyser le texte ambivalent qui introduit le recueil de nouvelles Junglee Girl, écrit en anglais, en soulignant des dissidentités au féminin. Comment les personnages de Ginu Kamani entrent-ils en dissidence face aux représentations stéréotypées des identités ?
Fichier principal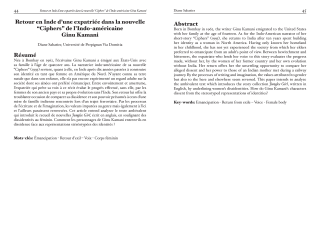 Miroirs_v4.1_2016_3_Sabatier.pdf (309.44 Ko)
Télécharger le fichier
Origin : Explicit agreement for this submission