The body between meaning and form: kinesiological analysis and typographical representation of movement in Sign Languages
Le corps entre sens et forme: analyse kinésiologique et représentation typographique du mouvement en Langue des Signes
Il corpo tra senso e forma: analisi kinesiologica e rappresentazione tipografica del movimento in Lingua dei Segni
Most of the research on Sign Languages (SLs) and gesture is characterized by a focus on hands, considered the sole parts responsible for the creation of meaning. The corporal part of signs and gestures is then blurred by hand dominance. This particularly impacts the linguistic analysis of movement, which is described as unstable, even idiosyncratic. Boutet's Kinesiological Approach (KinApp) repositions the speaker's body at the core of meaning emergence: how this approach considers and conceptualizes movement is the subject of this article. First, the reasons that led SLs researchers to neglect the analysis of the sign signifying form, focusing on the hand, are exposed. The following part introduces KinApp which, thru a radical change of point of view, allows to reveal the movement simplicity and stability: understanding the cognitive and motor reasons for this stability are the subject of research whose methodology is described. Setting the body at the center of analysis requires a descriptive model capable of accounting for the SLs signifying form, thus going beyond existing transcription systems. The last part is devoted to the presentation of Typannot, a new transcription system, aimed not only at a kinesiological description of SLs but also at assisting researchers to modify their way to understand and analyze movement.
La plupart des recherches sur les Langues des Signes (LS) et la gestualité sont caractérisées par une focalisation sur les mains, considérées les seules responsables de la création du sens. La nature corporelle des signes et des gestes est alors cachée par leur apparence manuelle. Ceci impacte particulièrement l'analyse linguistique du mouvement, qui est décrit comme instable, voire idiosyncratique. L'Approche Kinésiologique (KinApp) de Boutet remet au cœur de l'émergence du sens le corps du locuteur. La manière dont cette approche appréhende et conceptualise le mouvement est l'objet de cet article. En premier lieu, seront présentées les raisons ayant conduit les chercheurs de LS à mettre de côté l'analyse de la forme signifiante des signes et à se focaliser sur les mains. Ensuite, sera présentée la KinApp qui, à travers un changement radical de point de vue, permet de révéler la simplicité et la stabilité du mouvement. La compréhension des raisons cognitives et motrices de cette stabilité sont l'objet d'une recherche dont la méthodologie sera explicitée ici. Mettre le corps au centre de l'analyse nécessite d'un modèle descriptif capable de rendre compte de la forme signifiante des LS, dépassant ainsi les limites des systèmes de transcription existants. La dernière partie de l'article sera consacrée à la présentation de Typannot, un nouveau système de transcription, dont le but n'est pas seulement de permettre une description kinésiologique de la LS, mais aussi d'aider les chercheurs à modifier leur façon d'appréhender et d'analyser le mouvement.
La maggior parte della ricerca sulle Lingue dei Segni (LS) e sulla gestualità è focalizzata sulle mani, considerate le uniche responsabili della creazione di significato. La natura corporea di segni e gesti è quindi nascosta dalla loro componente manuale: ciò ha un notevole impatto sull'analisi linguistica del movimento, che è descritto come instabile, persino idiosincratico. L'Approccio Kinesiologico di Boutet (KinApp) riporta il corpo di chi parla al centro dell'emergere del significato; il modo in cui questo approccio vede e concettualizza il movimento è l'argomento di questo articolo. Per prima cosa vengono presentate le ragioni che hanno portato i ricercatori di LS a mettere da parte l'analisi della forma significante dei segni e a concentrarsi sulle mani. Successivamente, viene presentata la KinApp che, tramite un radicale cambio di punto di vista, rivela la semplicità e la stabilità del movimento. La comprensione delle ragioni cognitive e motorie di questa stabilità è ad oggi oggetto di ricerca, di cui si spiega la metodologia. Mettere il corpo al centro dell'analisi richiede un modello descrittivo in grado di rendere conto della forma significante, ben oltre i limiti dei sistemi di trascrizione esistenti: l'ultima parte è quindi dedicata alla presentazione di Typannot, un nuovo sistema di trascrizione, il cui scopo non è solo quello di consentire una descrizione kinesiologica delle LS, ma anche di aiutare i ricercatori a modificare il modo di farlo capire ed analizzare il movimento.
Fichier principal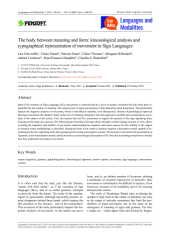 4C 026 2021-reprint Lang&Modal.pdf (2.64 Mo)
Télécharger le fichier
Origin : Publisher files allowed on an open archive